Employers' confidence in the UK economy has sunk to its lowest level since the Brexit referendum according to the latest survey by recruiters.
In September 33 per cent of employers believed the situation was deteriorating, while only 26 per cent believed it was improving, according to the Recruitment & Employment Confederation (REC).
The resulting net balance of -7 per cent was down from -3 for the previous month and was the lowest since the June 2016 referendum.
However, the balance of respondents reporting positive hiring and investment decisions was steady at +10 per cent in September, with 28 per cent expecting an improvement versus 18 per cent expecting a deterioration.
"Employers are showing a great deal of resilience as they continue to hire despite a growing number losing faith in the direction the economy is heading. The political climate isn't helping the situation. Businesses need clarity in order to plan effectively and so far the Brexit negotiations have not resolved any of the core issues," said Kevin Green, REC chief executive.
"An early agreement on the settlement of EU nationals already working in the UK would be a step in the right direction. The vast majority of EU nationals residing in the UK come here to work and make a valuable contribution to our economy." 
Dwindling employers' confidence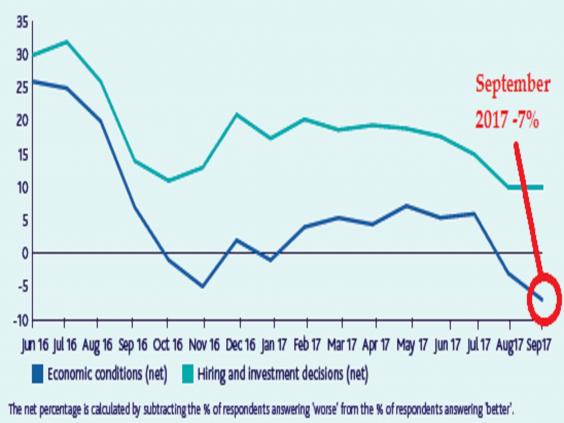 The REC's JobsOutlook survey involved 600 employers and business owners.
The most recent official data on the labour market showed a jobless rate of just 4.3 per cent, the lowest since 1975.
The REC survey also found that 60 per cent of employers regard agency workers as important in enabling them to take up growth opportunities, up from 46 per cent in the same period of 2016. 
However, 36 per cent expect to find a shortage of temps to meet their needs, with concerns most elevated in the construction sector.
Employers have been alarmed by the leak of a Home Office paper suggesting that a much more restrictive immigration scheme could be implemented as soon as the UK leaves the EU in March 2019.