The Organisation for Economic Co-operation and Development (OECD) predicts that the UK economy will slow rapidly in 2018, as the UK heads towards a hard Brexit.
In its latest round of forecasts, the Paris-based multilateral organisation has pencilled in GDP growth of just 1.6 per cent in 2017, which slips further to only 1 per cent next year.
Such a performance in 2018 would be weaker than the expected growth of all the rest of the G7 nations.
The OECD's headline projections, which are unchanged from its June forecasts, are based on the assumption that the UK will leaves the European Union in March 2019 without a free trade deal with the rest of the bloc, and that the anticipation of this adverse outcome will undermine consumer and business confidence next year.
Theresa May's Government is aiming to secure a transition deal with the EU to begin in 2019, but some Tory MPs have suggested Britain should prepare for such efforts to fail.
Failure would mean the UK would instantly have to trade with the rest of Europe on the most basic World Trade Organisation rules, meaning the imposition of tariffs and intrusive customs checks.
The OECD expects the UK unemployment rate to climb to 5.3 per cent in 2018, up from its current low of 4.3 per cent.
It sees the household saving ratio falling to just 2.2 per cent, down from today's from 3.1 per cent, as families run down run down their savings and borrow more as opposed to receiving higher incomes. 
"The major risk for the economy is the uncertainty surrounding the exit process from the European Union," said the OECD.
"Higher uncertainty could hamper domestic and foreign investment more than projected, but swift progress in negotiations and an outcome that retains strong trade linkages with the European Union would lead to better outcomes than projected."
The cost of hard Brexit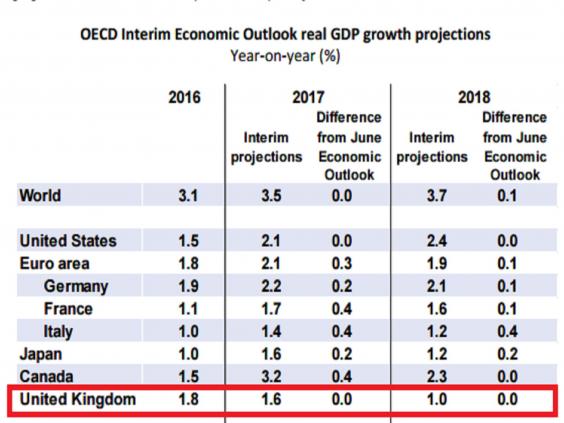 Responding to the OECD forecasts, a Treasury spokesperson said: "Our economy has grown continuously for four years and a record number of people are in work. This is a strong record but we are not complacent. We must continue our focus on restoring productivity growth, which is the only sustainable way to deliver higher wages and higher living standards for people across the country."
The OECD said on Wednesday that global growth in 2018 would be 3.5 per cent, up from 3.1 per cent in 2016.
"The mood in the global economy has brightened during the past year, with confidence indicators and industrial production increasing, and investment and trade picking up from low levels," said its chief economist, Catherine Mann.
But she added that: "The global cyclical upturn is not yet assured: the higher productivity and greater inclusiveness needed to improve wellbeing for all remain elusive."