When you downloaded iOS 11, you may have noticed something new inside iMessage: a strip of app icons at the bottom of the screen. 
The icons, called an app drawer, include a brand-new GIFs button, quick access to the App Store, the ability to send songs via Apple Music, and more.
The new app drawer is Apple's way of building off the changes it made to iMessage in iOS 10. Back then, Apple introduced a special iMessage App Store and added drawing features. But iOS 11 takes things one step further — and it's going to make your life a lot easier. 
Here's how to use the new iMessage:
The app drawer will either pop up automatically when you open up a conversation, or it can be accessed by clicking the App Store icon next to the camera icon on the bottom. Once it appears, you can swipe left or right to check out all the apps.
The app drawer is where the drawing feature lives now. This feature was introduced last year with iOS 10 and it lets you send animated drawings through iMessage.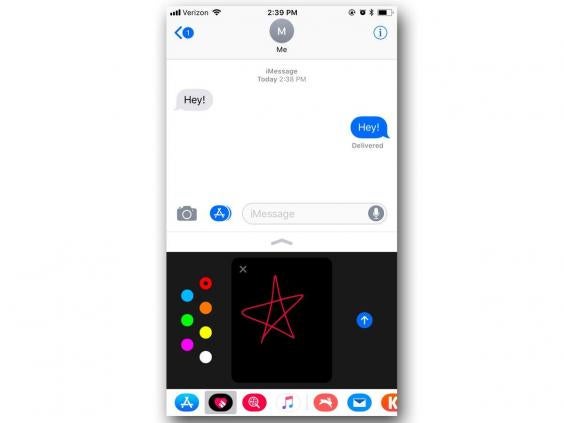 There's also a GIFs button that lives in the app drawer. The best part is that it's searchable, so you can quickly find the reaction you're looking for. Click on the GIF you want and it'll automatically pop into the text field.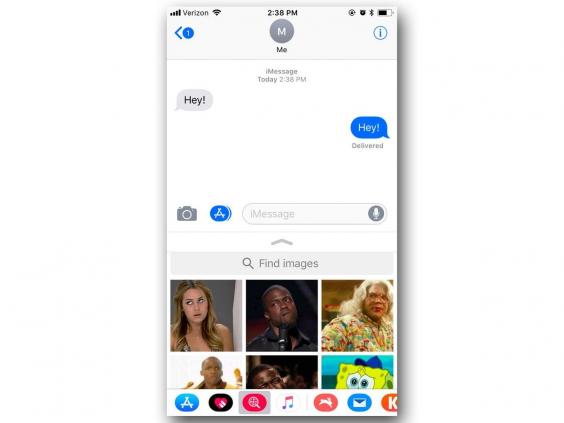 If you want to send your friend a song you're really digging, there's a button for that too. The Apple Music version is limited for now — you can only see and select a handful of songs you've played recently — but if you have Spotify, its icon will automatically show up in the app drawer, and you can share any song with a friend.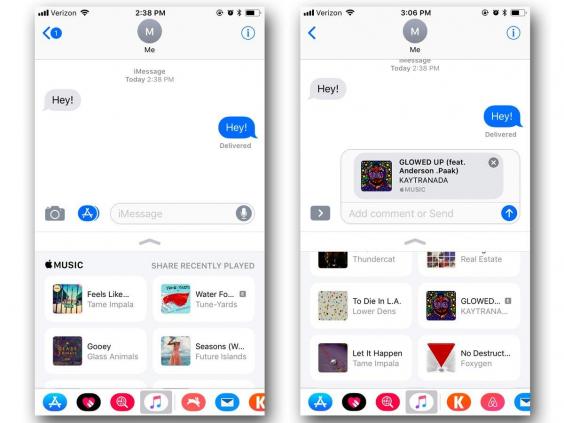 As Spotify's inclusion suggests, the app drawer isn't limited to Apple-made apps — you can add external apps to iMessage too. The Google Maps iMessage app lets you quickly send your current location (although it's worth noting that Apple already let you do that in iMessage using its own mapping software).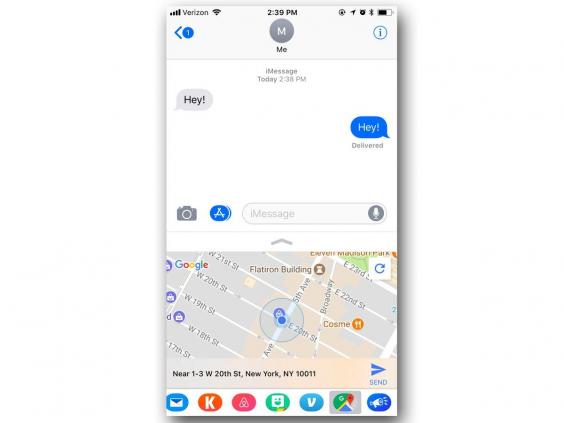 Eventually you'll be able to use Apple Pay in iMessage to send money back and forth, but for now, there's a Venmo app for that. And with the Airbnb app, you can show someone a place you're thinking about renting without leaving iMessage.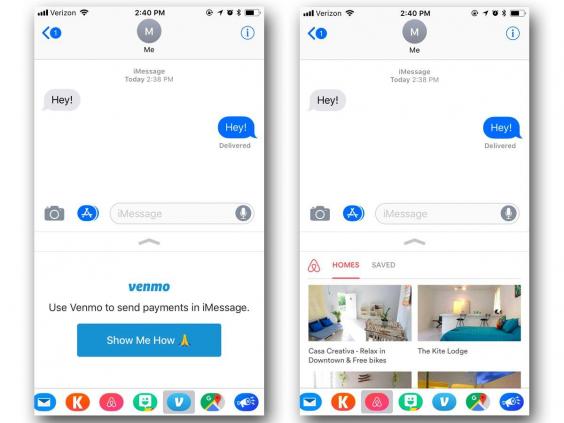 Travel app Hopper has an iMessage app, too, but it's just for sending stickers.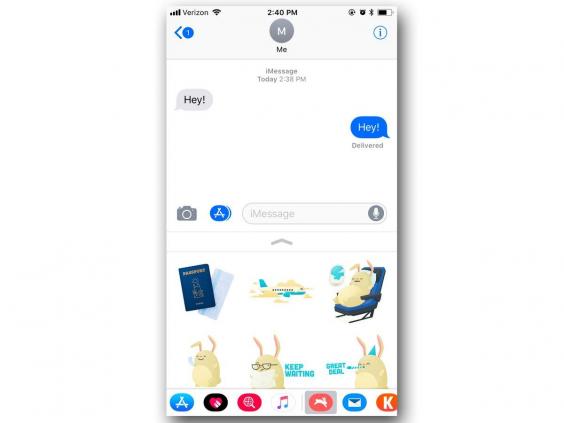 The apps on my phone automatically showed up when I downloaded the update, so they're different for everyone depending on what apps you already have on your phone. If you want to add more iMessage apps, click on the App Store icon. You'll be able to see stickers, apps, and games that are available to add to the app drawer.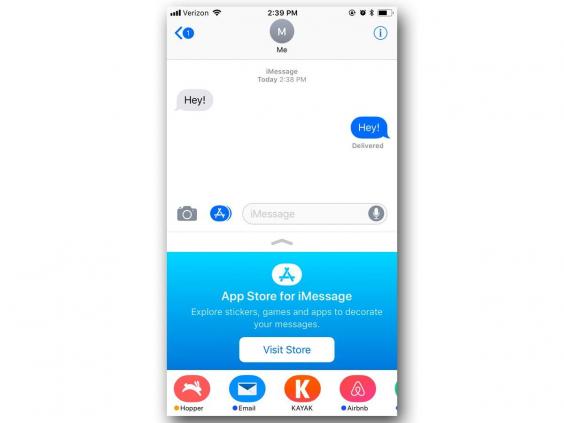 I've only been using iOS 11 for a little over a day, but right off the bat, my two favorite iMessage apps are Kayak and Email. With the Kayak app, you can send someone a trip itinerary or show them flights you're considering booking.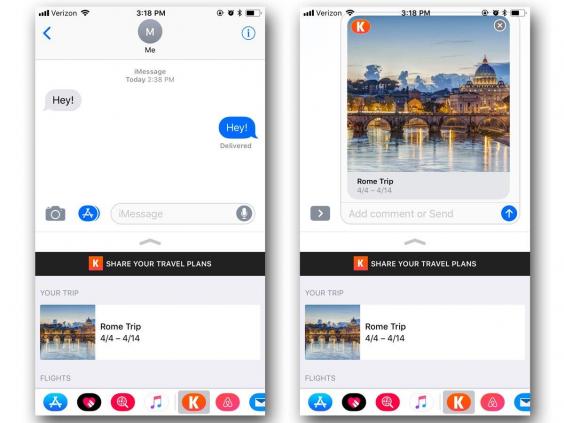 With the Email app, which is made by Edison Mail, you can find bills or receipts and send them via iMessage with a few clicks. It may not be a groundbreaking feature, but it certainly is a convenient one.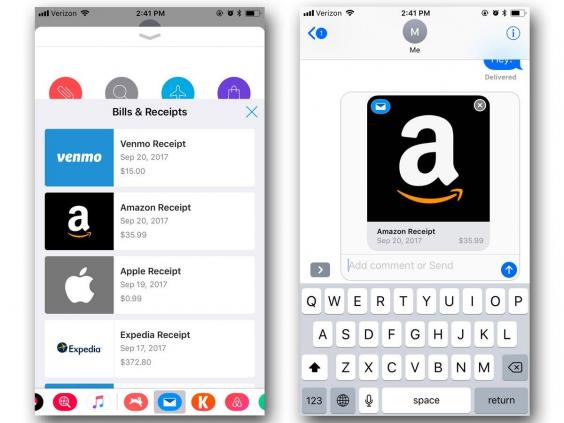 And if you want to change the layout or remove an app, scroll all the way to the end. There, you'll see a button that says "More." You can add, delete, and search through iMessage apps here.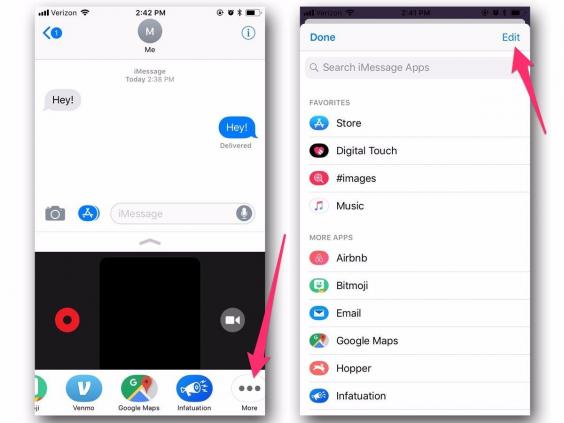 iOS 11 is now available to download for anyone with an iPhone 5S and above. Learn more about the update in Business Insider's round-up of tips, tricks, and hidden features. 
Read more: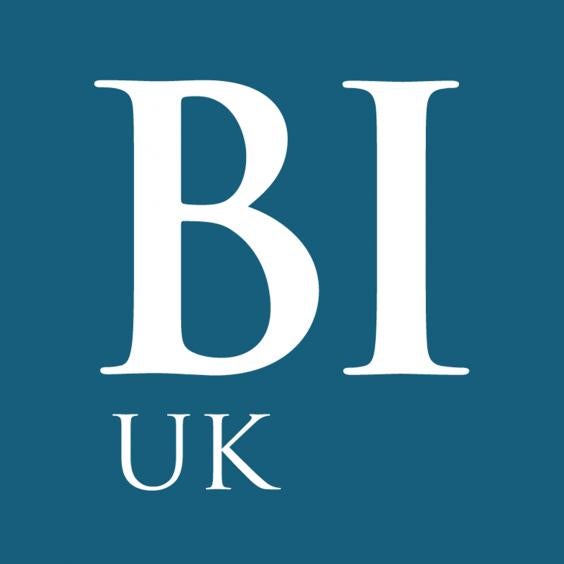 • This chart is easy to interpret: It says we're screwed
• How Uber became the world's most valuable startup
• These 4 things could trigger the next crisis in Europe
Read the original article on Business Insider UK. © 2016. Follow Business Insider UK on Twitter.