Around 3.5 million people are without electricity in Puerto Rico after Hurricane Maria wipes out power to the entire island.
The storm blew ashore on Wednesday morning unleashing heavy flooding and bringing down mobile phone masts and power lines.
Winds of 155mph hit the southeast coastal town of Yabucoa in Puerto Rico and spread over the small island as people were forced to wait it out in shelters or take cover inside stairwells, bathrooms and closets.
Widespread flooding was reported across the US-territory, with dozens of cars half-submerged in some neighbourhoods and many streets turned into rivers. People calling local radio stations reported that doors were being torn off their hinges and a water tank flew away. 
It is the biggest hurricane to hit Puerto Rico in 80 years and the third major storm to strike the region in as many weeks. 
At least nine people have died across the Caribbean after Maria battered the Virgin Islands yesterday. The Category 4 storm is now expected to move toward the Dominican Republic and Haiti.
Damage to the island's already crumbling electric grid is likely to compound the economic woes of the islanders who are struggling after years of recession.
Puerto Rico is struggling to restructure a portion of its $73bn (£54bn) debt, and the government has warned it is running out of money as it fights back against furloughs and other austerity measures imposed by a federal board overseeing the island's finances. 
The island's governor, Ricardo Rossello, urged people to have faith: "We are stronger than any hurricane. Together, we will rebuild." 
He later asked President Donald Trump to declare the island a disaster zone, a step that would open the way to federal aid. 
Many feared extended power outages would further sink businesses struggling amid a recession that has lasted more than a decade. 
"This is going to be a disaster," said Jean Robert Auguste, who owns two French restaurants and sought shelter at a San Juan hotel. "We haven't made any money this month." 
The heavy winds and rain and the noise of things crashing outside woke many across Puerto Rico before daybreak. At one recently built hotel in San Juan, water dripped through the ceiling of a sixth-floor room and seeped through the window.
More than 11,000 people — and more than 580 pets — were in shelters, authorities said. 
Felix Delgado, mayor of the city of Catano on the northern coast of Puerto Rico, told WAPA Television that 80 percent of the homes in a neighbourhood known as Juana Matos were destroyed. 
El Nuevo Dia newspaper reported that 80 percent of homes in a small fishing community near San Juan were damaged, and that an emergency medical station in the coastal town of Arecibo lost its roof, while communication was severed with several emergency management posts. A hospital and a police station reported broken windows, and a tree fell on an ambulance.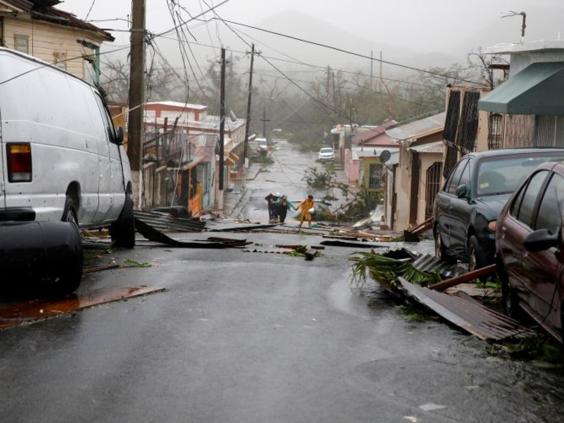 The hurricane comes after Harvey and Irma devastated parts of the Caribbean and the south-east of the US earlier this month.
Irma sideswiped Puerto Rico on 6 September, causing no deaths or widespread damage on the island but leaving more than 1 million people without electricity. More than 70,000 still had no power as Maria approached.
Hurricanes tend to veer north or south of the island. The last Category 4 hurricane to blow ashore in Puerto Rico was in 1932, and the strongest ever to hit the island was San Felipe in 1928 with winds of 160 mph (250 kph). 
As Maria closed in, Trump offered his support via Twitter: "Puerto Rico being hit hard by new monster Hurricane. Be careful, our hearts are with you – will be there to help!" 
The storm's centre passed near or over St. Croix overnight Tuesday, prompting US Virgin Islands Governor Kenneth Mapp to warn people to remain alert. St. Croix was largely spared the widespread damage caused by Irma on the chain's St. Thomas and St. John islands. 
"For folks in their homes, I really recommend that you not be in any kind of sleepwear," Governor Mapp said. "Make sure you have your shoes on. Make sure you have a jacket around." He added: "I don't really recommend you be sleeping from 11 o'clock to 4." 
Maria killed two people in the French Caribbean island of Guadeloupe, and two people aboard a boat were reported missing off La Desirade island, officials said. 
The storm also slammed the island of Dominica late Monday. Hartley Henry, an adviser to the prime minister, reported at least seven deaths and a "tremendous loss of housing and public buildings." He said the country was "in a daze," with no electricity and little to no communications. 
Additional reporting by AP